Freelance Writing: What I'm Grateful For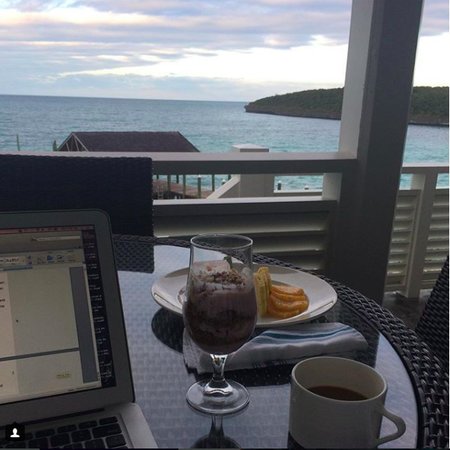 November 22, 2017
Happy (almost) Thanksgiving, freelance writers! I hope you have a nice holiday planned ahead with your family and/or friends. I thought I'd share a few things I'm grateful for as a full-time freelance writer. (In no particular order.)
Strong wifi signals
Fresh, hot coffee in the morning
Having time to be on assignment and write travel articles (That view is from The French Leave Resort, in Eleuthera, The Bahamas)
Accounting departments who use direct deposit and uncomplicated invoicing processes
Sources who answer their phones during our scheduled interview times
Editors who respond in a timely manner to pitches (See Freelance Pitches That Worked)
Editors who say "I love these ideas! Thank you for these thoughtful pitches!"
Long battery life on my laptop
My mouse
A long lunch break if I want
Being able to dictate my exercise schedule
Maximizing the "no makeup" look…by not wearing any makeup all day long (saves money!)
A short commute from my bedroom to my desk
Attending fun PR events (You can see some on my Instagram)
Freelance writing friends who offer advice when you need support and who understand the isolation, particularly Brittany Risher, Julie D. Andrews, Cristina Goyanes
Meeting and supporting other freelancers that I never met, like Gina Roberts-Grey, Laura Vreck and Andrea Emerson to name a few.
Editors who let your voice shine through in your articles (Hi, Headspace editors!)
Deadline extensions from generous editors (like before the holiday weekend)
The New York Public library when I need to concentrate on writing
My HP printer scanner
Working in workout clothes
My digital recorder
Transcription writing services when needed
Being able to take advantage of "summer Fridays," talk to friends on Mondays when they have off, food shopping the middle of the week, and being able to move my schedule so I can have days off when my partner's schedule changes.
Opportunities to work with new clients and take on interesting projects, like writing books for the FDNY Foundation
Taking as many "vacation days" off as I want (even though they're not paid)
Having enough freelance assignments to be able to pay for health insurance, bills, and a comfortable, happy life
Sharing my freelance knowledge with others by creating a Freelance Writing Online Course "Get Paid to Write" on Teachable and having new students joining monthly
Having newsletter subscribers.
I also very appreciative of my family, friends, health, home and working in an industry that allows me to have this life.
What are you grateful for this Thanksgiving?
Tags: article ideas, content strategy, freelance writer, freelance writing course, freelancer, freelancing, magazine editors, online course