5 Tips for Setting Freelance Business Goals You'll Actually Hit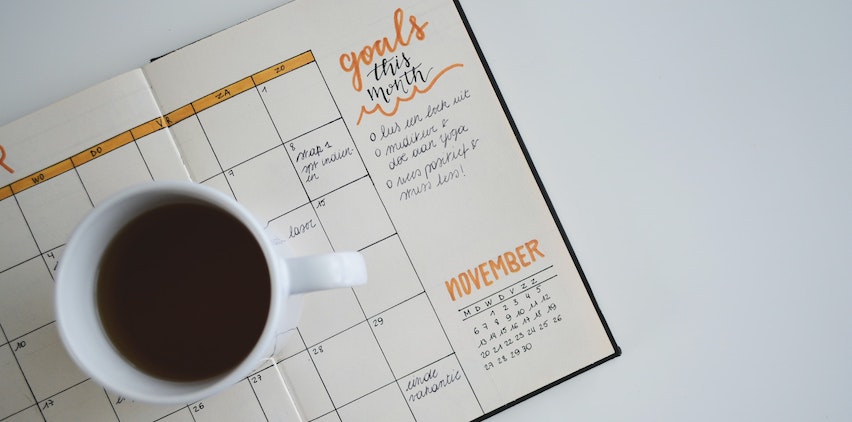 September 7, 2020
It's all too easy to get caught up in the day-to-day grind of running a freelance writing business. You're answering clients' questions via email, pitching ideas out to existing clients, emailing article pitches and letters of introduction to potential clients, and trying to keep up with social media, oh yea, and track down that payment that's three months late. It's certainly enough to keep you busy, but, those tedious tasks will wear on you and eventually interfere with your motivation.
Finding the motivation to stick with freelancing when the going gets tough — especially during a global pandemic when business might be slow  — is one of the most common topics my freelance coaching clients bring up. I totally get it. Whether your motivation is waning because you aren't hearing back from editors on your pitches, editorial budgets have been temporarily slashed, or, because you're extremely overworked but don't feel like you're making enough money that you can sustain yourself, it's easy to get caught in this trap.
That's why I ask clients about their goals when they say they're struggling with motivation.
If you don't have short-term and long-term goals for your freelance career and revisit them occasionally, you'll find yourself in December exhausted from running on the hamster wheel. Maybe you'll even feel disappointed because you didn't reach the goals you set at the beginning of the year. (Here's how to set goals if you haven't already.)
5 Goal-Setting Tips for Freelancers
Work backward from a few years out.
Do you have an idea of where you want to be with freelancing in five years? If you want to be working for yourself, from home, you need to think about what that requires. Do you want to make six figures freelancing this year or next? Have you thought about the skills you'll need to put into practice to get there? If you plan to leave your full-time job (with health benefits and a retirement plan) to work for yourself, you'll need to set a salary goal that's about 25% higher than you're making right now in order to make about the same money working for yourself. Here are six money decisions I encourage you to think about before going full-time freelance.
Decide how much you want to earn freelance writing this year.
You probably already have a general number in your head, but do you do a monthly check in to see how that's going? As we're nearly one-quarter through the year, have you revisited your income goal to see if you're on track? I use a Google spreadsheet to track my assignments I'm working on (and how much they'll bring in), as well as how much I'm waiting to be paid (in another sheet). I have a number in mind that I want to see when I add up the "invoices out" and "assignments I'm working on" and if that total isn't as high as I'd like it to be, I ramp up marketing efforts.
Set goals that have nothing to do with income.
One of the beautiful things about freelance writing is that you can work for a variety of clients and outlets and write about topics that mean something to you. One of your goals for the year might be to get a personal essay published. (Mine was! Here's one about my adopted pup, Jackson.) Another good freelance writing goal is to break into a new niche. I've been writing about health for a long time but I'm looking to write more about pet health, personal finance, and skin care. (I addressed two of those niches in that essay!) Look for ways you can start building up clips for a new niche with topics you're already covering. Here are some tips on how to add multiple niches to your freelance writing career.
Consider setting a goal associated with time.
There are a number of ways to think about this freelance goal. It could be a long-term goal to take three weeks of vacation from your full-time freelance writing career next year. Another goal could be to work fewer hours per week. (How many hours do freelancers work per week?) Maybe your goal is to track how much time you spend writing each article. If you feel that you're not prioritizing freelancing as a side hustle, your short-term goal might be to work on freelancing for 7 to 10 hours a week this month, and then 15 hours a week by the next season. A good short-term freelance goal could be to write faster so you can earn a higher hourly rate.
Get granular about your hourly rate.
When I addressed how many hours freelancers work each week in that blog linked above and say that I aim for 30, those are the billable hours I'm working where I'm earning money for my time. I aim to earn $100 an hour freelancing and working about 10 to 15 billable hours a week.
I'm not sharing these average hourly rate details to brag or to make you feel bad if you're not there yet (I have over 15 years of writing experience that got me here), but this is to show you that if you want to earn a salary of $50,000 gross freelance writing, and you're consistently working on assignments that pay $25  and they take you three hours to complete, it's going to take a lot of work to get you to your goal.
That's why goal setting is important for freelancers. It helps you look at what you're doing now and determining if it's in line with where you want to be in the future. If you aren't where you want to be with your freelance writing rates or the types of clients you're working with, start working on finding higher-paying assignments that will get you to your goals. Learn about how to make more money writing.
Want more freelance-writing tips to help you run your business? Get my e-Book for 125-plus tips for freelance writers.
Tags: article writing advice, content strategy, freelance course, freelance rates, freelancer, freelancing, making six figures freelancing, productivity, six figure freelancing, six figure income, stress, time management, writing tips