The Books Every Freelancer Should Read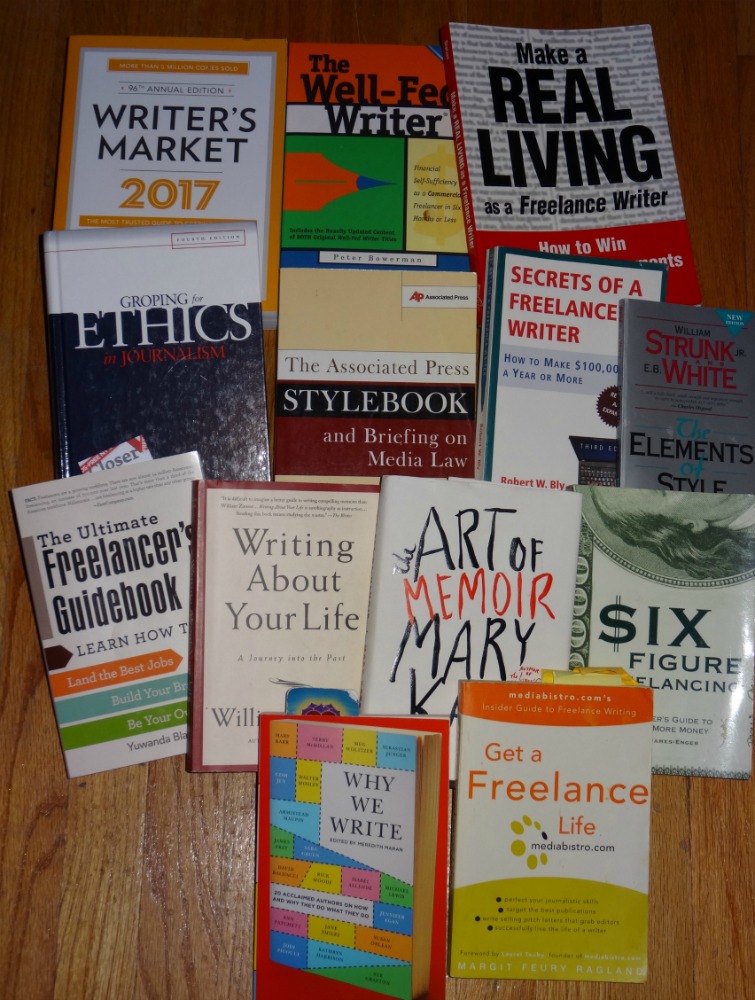 July 31, 2019
When you want learn how to become a freelance writer, it's helpful to have a variety of resources at your fingertips.
In the 13-plust years I've been freelance writing, I attended in-person classes offered by Ed2010.com as well as Mediabistro online and in person, took an online course offered by Inkwell Editorial on How to Create an Online Course, and attended networking events offered by Freelancer's Union.
To supplement those lessons I learned on how to be a freelance writer over the years, I enjoy reading about freelancing.
I've been reading and collecting a lot of freelance writing books, business books on how to get started with freelancing, how to make six figures freelance writing (did it!), as well as how to write stories about my life (haven't published those yet). This list also includes some journalism 101 gems from Rutgers, including Groping for Ethics & Journalism, The Associated Press Stylebook, and of course, The Elements of Style.
Here are a few of the freelance writing books I've found helpful when you're getting started freelancing. (In no particular order.)
The Best Books on Freelance Writing
100+ Tips for Beginner Freelance Writers by Diana Kelly Levey (shameless self plug–check out my e-book!)
Get a Freelance Life (Mediabistro.com) by Margit Feury Ragland
On Writing (not pictured) by Stephen King
The Freelance Content Marketing Writer by Jennifer Goforth Gregory
Writer's Market 2017 (These come out annually and while they're not always the most up-to-date with editors' names, the consumer magazines and special interest magazines listed remind me there's a plethora of outlets to write for.)
Make a Real Living as a Freelance Writer by Jenna Glatzer
The Million-Dollar One Person Business by Elaine Pofeldt
The Well–Fed Writer by Peter Bowerman
Six-Figure Freelancing by Kelly James-Enger
The Art of the Memoir by Mary Karr
The Ultimate Freelancer's Guidebook by Yuwanda Black
Why We Write: 20 Acclaimed Authors on How and Why They Do What They Do by Meredith Maran
Writing About Your Life by William Zinsser
Secrets of a Freelance Writer by Robert W. Bly
Real Artists Don't Starve by Jeff Goins
Thanks to these authors for their advice and inspiration!
Which freelance writing books do you find helpful and motivating?
Tags: freelance, freelance writer, freelance writing course, freelancer, freelancing