Could Prenatal Yoga Treat Depression?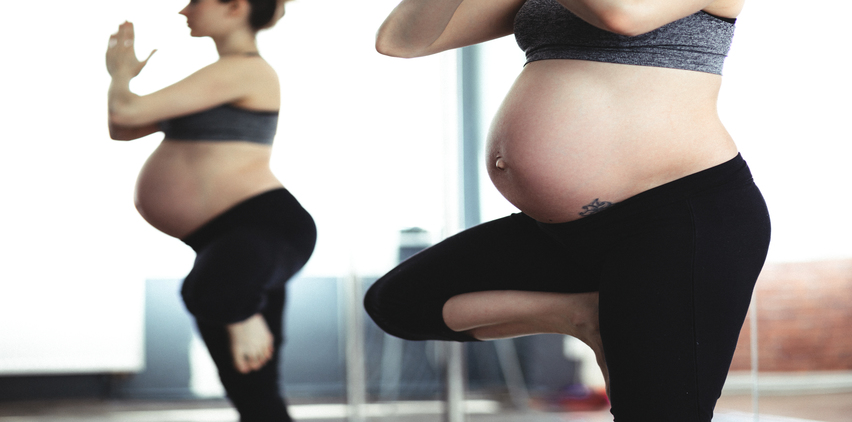 August 20, 2019 | Categories: Mental Health, Pregnancy & Parenting
Spending some time striking poses on your yoga mat weekly while pregnant may help improve your mood if you're suffering from depression, according to a new study published in the journal Women's Health Issues.
Researchers from Brown University, Butler Hospital, and Women & Infants' Hospital conducted a small pilot study where 34 pregnant women with depression participated in a gentle, 10-week prenatal yoga program that involved taking one 75-minute yoga class each week. "We were encouraged to find that, on average, women's depressive symptoms decreased steadily during the 10-week yoga program," says study co-author Cynthia Battle, Ph.D. Participants also reported feeling more mindful over the duration of the study.
Prenatal Yoga and Depression During Pregnancy
The women were also encouraged to practice yoga at home in addition to the one community class, and many did. "An interesting finding was that there was an association between a woman's total number of minutes practicing yoga per week and her level of depressive symptoms during that same week," says Battle. This would suggest that the more regular yoga practice the better when it comes to alleviating depressive symptoms.
The researchers plan to conduct a larger, randomized controlled trial to more carefully test whether or not prenatal yoga can serve as a viable treatment to depression. "Our initial results are highly encouraging, but more work remains to be done," says Lisa Uebelacker, Ph.D., co-author of the study. "Learning more about how prenatal yoga may improve a woman's mood, and also examining associated infant outcomes, are key questions that we hope to explore in our next study." Here's how yoga can help your brain.
This is welcome news as increasing research points to the dangers of taking antidepressants during pregnancy. It's important to note, however, that this study was focused on mood improvement among women with mild to moderate symptoms, not those with more severe forms of depression. If you're experiencing any level of depression during pregnancy you should discuss options with your health care provider to determine the most appropriate treatment for you, suggests Uebelacker.
Read the full story on FitPregnancy.com.