Easy Thanksgiving Crafts for Toddlers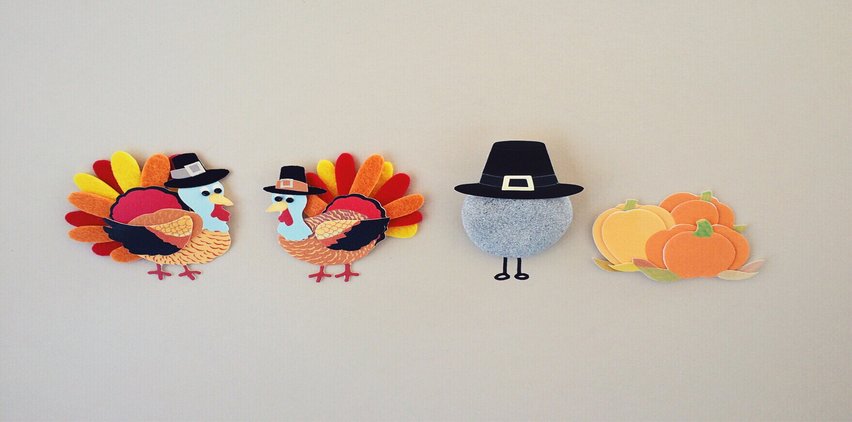 November 13, 2020 | Categories: Home
What better way to decorate your house this holiday than with homemade Thanksgiving crafts and decorations your toddler created? These Thanksgiving crafts for kids are perfect for toddlers and preschoolers to do leading up to the Thanksgiving holiday, or some can be done on Thanksgiving Day while the turkey roasts if you have extra help on hand prepping dinner.
Thanksgiving Crafts to Do with Toddlers
Fall Leaf Craft for Toddlers
We love this Thanksgiving craft for toddlers from Susie at BusyToddler.com due to its simplicity of using fall's beautiful bounty. Chances are, your toddler is already walking around and picking up pretty fall leaves, so why not use them in a cute Thanksgiving craft they can show off to guests on Turkey Day?
Pumpkin Pie Paper Plate Craft
If you don't have a lot of time to make a Thanksgiving craft—and don't want to create a mess—check out this Thanksgiving craft for kids Kimberly from ANightOwlBlog.com came up with. It celebrates one of our favorite parts about the Thanksgiving holiday—pumpkin pie! Chances are you have most of the materials for this DIY craft on hand. This Thanksgiving craft could be a group activity for a bunch of kids with adult supervision on Thanksgiving Day who are waiting for dinner to be ready and could use a distraction.
12 Ways to Stay Calm and Happy All Season Long
Thanksgiving Yarn Pumpkins
This pumpkin craft for kids might look complicated, but we promise, it's fun to do with your toddler and will look festive on your Thanksgiving table. We love that OneLittleProject.com blogger Debbie let us share this Thanksgiving craft for kids with us—and she found all of her supplies at the dollar store! Since this is a bit messier and takes at least 24 hours for the balloons to dry before they are "pumpkins," consider doing this craft at least a few days before Thanksgiving.
Here's Why Expressing Gratitude Is Important for Your Relationship
Popsicle Stick Scarecrow
You've gotta love Thanksgiving crafts for toddlers that require you to eat an entire box of popsicles. While you don't actually need to polish off several ice cream bars to make this adorable popsicle stick scarecrow from One Sharp Bunch, you at least have a good excuse at the ready.
Read the full article on how to make these Thanksgiving crafts for toddlers and preschoolers on TheBump.com.