How to Use Essential Oils to Enhance Your Well-Being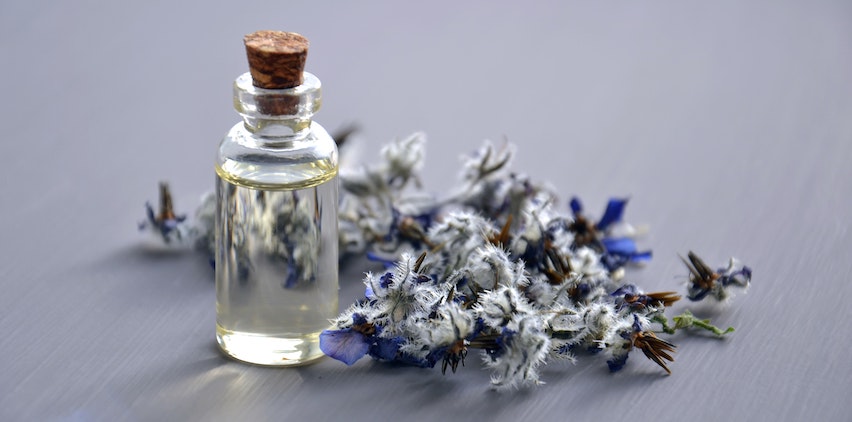 March 15, 2020 | Categories: Beauty & Skin Care, Health
You probably know essential oils either as the reason your friend's apartment smells so dang good all the time or the reason your acquaintances from high school have started messaging you out of the blue with bold sales pitches. (Or one of the reasons why your mom is so calm and happy every day.)
However, if you've never tried using essential oils yourself, you might not know what they actually do. There are many essential oil uses that go beyond a pleasant scent. In fact, some could benefit your health!
Essential oils are concentrated oils extracted from plants. They're obtained by pressing or distilling the plant and typically retain the original, natural scent of their source. And there's no shortage of ways to use them — from putting them in an aromatherapy diffuser to mixing them with your favorite lotions.
As with any addition to your skincare routine, just remember to always test out a small area of skin with each oil to make sure you don't have a reaction, and when in doubt, dilute it — seriously, a small amount of this stuff packs a punch!
OK, ready to get into it? Here are four essential oil uses that can improve your skin and your overall well-being at the same time.
How to Use Essential Oils
1. As a natural relaxant
Lavender is great for reducing anxiety and feeling calmer, and has commonly been used as a sleep aid. Your mother may have used a lavender sachet in a dresser drawer to keep garments smelling fresh, but this floral-scented essential oil doesn't have to stay tucked away to improve your life! One study found that inhaling lavender essential oil for about 20 minutes twice a week, for 12 weeks, led to a significant improvement in sleep quality. (It's even one of the many natural remedies for insomnia.)
To enjoy the relaxing effects, add a few drops to a tissue and take deep breaths, or place the tissue under your pillowcase to take in the scent while you sleep. You could also make a calming skin toner by using 8 ounces of purified water and 2 drops of lavender essential oil in a bottle. Shake it, then apply the toner to clean skin with a cotton ball.
2. For a helpful pick-me-up
You might reach for an orange as a snack when you're hitting an afternoon slump, but keeping a bottle of this citrus oil around might do the trick! The fruity essential oil can help decrease symptoms of anxiety and improve your mood.
Have a nerve-racking dentist appointment coming up? Inhaling orange essential oil beforehand can not only help you feel more chill about it — it may also help you handle any associated pain or discomfort. One study found that patients with fractured limbs felt less pain after receiving orange essential oil aromatherapy.
Before heading off to a stressful meeting, try soaking a cotton ball in the oil, placing it somewhere near your body and then inhaling. After a few breaths you should be feeling relaxed and ready to take on any challenge. You could also combine orange essential oil with a carrier oil like sweet almond, jojoba or avocado, and apply it directly to your skin to help reduce feelings of anxiety.
3. To alleviate aches and pains
Whether the aroma of peppermint reminds you of candy canes during the holidays or the gum you chew every day, using this essential oil in your beauty routine can take your level of comfort to a whole new level of freshness. Just a few drops offers multiple ways to benefit your health, from easing symptoms of irritable bowel syndrome to reducing headaches and muscle aches when applied topically to the skin.
Peppermint essential oil has also been used to treat common complaints of itchy skin when applied topically. If you're experiencing symptoms, use some on your skin after moisturizing!
Read the full article on Aveeno.