How to Keep Your Dog Safe This Summer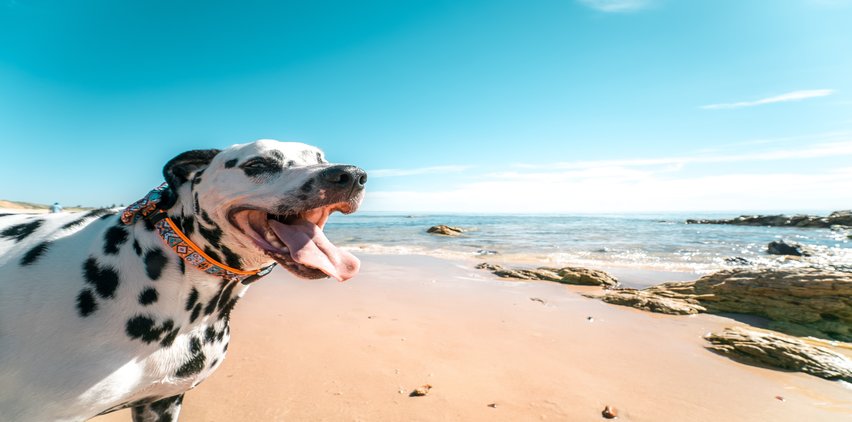 July 3, 2018 | Categories: Health
You're going to be outside with your dog as much as possible this season. Here are nine ways to keep him safe, cool, healthy, and protected from the elements all summer long.
While summer is the season for outdoor workouts, barbecues, and basking in the sun, summer also presents challenges for dogs.
There's the risk of overheating, for one thing. There's the chance of eating the wrong foods, for another. Add in the occasional adventure—suiting up your dog for boat rides, protecting your pooch from hot pavement—and there's plenty to think about in advance.
Here are nine special health considerations your dog wants you to know about—and how you can take care of him all season long.
How to protect your dog from heat exhaustion
Why it's dangerous: "Dogs love humans to the point where they will do more than they should, and they'll try to stay with you on a long bike ride or run even if they're too hot," says Jennifer Kim, D.V.M., D.A.C.V.I.M., of NorthStar Veterinary Emergency Trauma & Specialty Center in Maple Shade, NJ. High temperatures, sun, and humidity can feel more extreme for dogs than humans. Keep in mind that older, bigger dogs like Labradors are susceptible to laryngeal paralysis, a condition that severely affects a pet's breathing. Brachycephalic dogs—aka "smush-nosed" breeds like bulldogs, pugs, and boxers, and bull mastiffs—also tend to fare worse in heat, as do heavy-coated dogs like huskies, malamutes, and Samoyeds.
Solution: Pay attention to signs that it's too hot out for your dog. If he's panting a lot—which is how dogs cool down—and he's slowing down halfway through your normal walking route, give him water and take him home to cool off, suggests Kim. Always have water on hand for your dog. We love hydration products that make it easy, like The Rocky Mountain Underground Grrowler Valhalla collar (small starts at $39.99). It has an embedded water bowl so you can take it off your dog, unzip it and fill the collar up with water. Alternatively, bring a water bottle with a detachable drinking cup, like Hydroflask's customizable MyHydro bottles (from $34).
How to protect your dog from a hot car
Why it's dangerous: Even if it's 70°F outside, your car can heat up quickly in the sun, and it becomes dangerous for your dog to be inside with the windows up. The temperature inside your vehicle can rise nearly 30° in 20 minutes, leaving your dog at risk for illness or even death.
Solution: "Never leave your dog in the car," says Kim. If you're traveling in an RV and need to leave Rocket in there with the air conditioning on, you might want to consider a device with a Bluetooth-connected alarm so you're alerted if the AC turns off. The La Crosse Alerts Mobile 926-25101 GP Wireless Monitor System ($27.17 on Amazon) works 24/7 and will send you early-warning text and email alerts if either temperature or humidity levels go beyond pre-set ranges.
How to make your dog visible to cars
Why it's dangerous: Getting hit by a car is single worst accidental killer of dogs. Help your dog stay safe by training him or her to stay by your side, and make it easier for drivers to see them on the road.
Solution: When you're walking or running with your dog at dusk or in the wee hours of the morning to avoid the heat, make sure your dog is wearing something reflective, so that cars can see you both. You can buy leashes, collars, and harnesses with reflective features or simply purchase reflective tape and place it on dog gear you may already own, suggests Rachael Ziering, executive director of Muddy Paws Rescue NYC. We like the NiteDawg LED collar from Nite Ize, which ranges from $14.59 to $19.99 depending on the size. It's also water resistant in case your dog can't help jumping into the nearest body of water.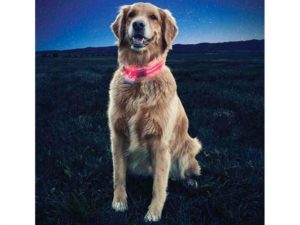 How to make sure your dog eats well
Why bad food is a problem:We know it's tempting to let Duke eat a hamburger or hot dog that fell on the ground, but it's important to keep your dog on his regular diet so you don't mess with his digestion or cause him to gain weight. Just as extra pounds aren't healthy for you, they're not good for your dog either. Never give your dog corn on the cob, for example—dogs can't digest the cobs, Kim says.
Solution: Keep your dog healthy by feeding him a healthy diet—and don't feed him "people food." Wash your hands whenever you handle dog food, too, as dogs can also be susceptible to foodborne illnesses like salmonella and E. coli.
And if regular old kibble doesn't seem to work for your dog, consider a food delivery service, like The Farmer's Dog, which delivers fresh, natural pet food to your doorstep through a customized food plan designed to suit his size, needs, and preferences. Pricing varies based on the dog and the amount of food the dog needs, but starts at $11 a week for a small dog with two meals a day. Another good choice is I and Love and You—its dry food, wet food, and chewy treats are grain-free, use real meat, and have no artificial products. (A Naked Essentials Kibble Chicken + Duck 4lb. bag costs $11.99 on Amazon.)
How to protect your dog from ticks and fleas
Why it's dangerous: If you love hiking with your dog, you're both vulnerable to ticks in the woods. Make sure you do a thorough search on both of you once you're home and remove any ticks.
Solution: Making sure you use tick/flea collars from your vet, suggests Kim. Be careful about "alternative" products on the market, she says—they don't work as well. Protect your dog by choosing veterinarian-recommend tick and flea collars, so you're not putting your pooch at risk.
Read the full article on Men's Journal.