How to Keep Your Dog Safe This Winter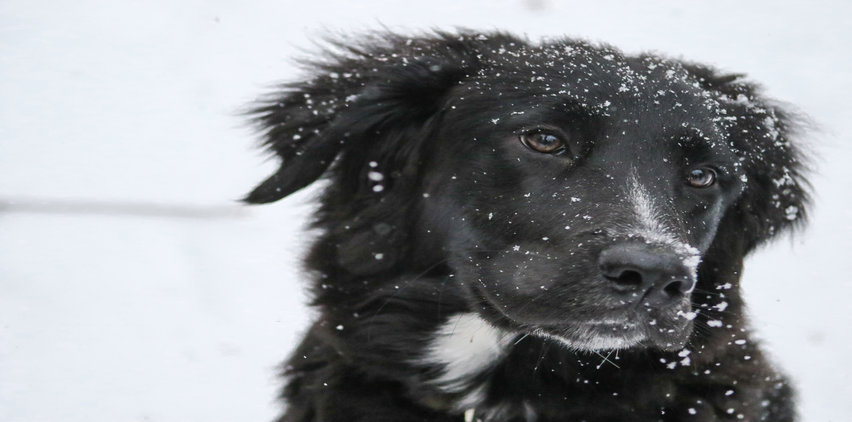 March 7, 2019 | Categories: Pet Health
Ever wonder what you should you do about your dog when temperatures plummet? He or she still needs to go outside, and they still need exercise, but is it safe for them when it's frigid out? Can winter weight gains hurt them?
I talked to Dr. Mark Verdino, veterinarian at North Shore Animal League America in Port Washington, NY. (Full disclosure….where I just adopted a Lab-mix puppy in the fall) to learn important safety practices to keep in mind this winter, and how to make sure your pooch stays healthy and fit all season long.
Does my dog need to wear a coat or sweater outside?
It depends on the breed, says Dr. Verdino. Some breeds are designed for cold weather like huskies, certain shepherds, mountain dogs, and they really don't ever need a sweater, he said. "They can be outside for longer periods of time, they have fur on the bottom of their paws that cover most of the pads by design."
But many people don't have those breeds that were build for arctic temps. "Smaller dogs or shorter-haired dogs [need coats or sweaters] if the temperatures are getting very cold or if they're going to be outside for a prolonged period of time should have some kind of support."
You might be wondering, well, How do I know if our 10-minute morning walk is too long for him to be outside when the thermometer is below freezing? "The rule of thumb that I use is if you are wearing a light jacket and you went outside, as long as you could comfortably stay outside is about as long as they can stay outside. If you're wearing a down parka, a winter hat and gloves, you might be okay, but your dog might not be.
"So generally speaking if it's below freezing, walks should be somewhat minimal unless again they're a Nordic breed or they have some kind of booties, clothing, that type of thing," Dr. Verdino said.
"Dogs can get frostbite. Any prolonged exposure of tissue–meaning skin, paws, exposed belly–to subfreezing temperatures, can cause frostbite," said Dr. Verdino. "It can be dangerous. I've seen dogs lose limbs because of it. Every dog should have adequate shelter. I'm not a proponent for leaving any dog outside in subfreezing temperatures without a heat source for that reason," he said. "Use common sense. If you're outside for 10 minutes shoveling the driveway and you can't feel your fingers or your toes, and you have to come inside and that's about the time limit your dogs should be outside," he said.
Do your research as to the best coat for your type of dog depending on his breed and size. Make sure your follow the measurement guidelines for each coat designer. We're digging the Kurgo Loft Dog Jacket and Reversible Dog Coat, available in Extra Small, Small, Medium, Large & Extra Large sizes ($31.49; Amazon.com); Django's Reversible Puffer Cold Weather Coat for small and medium-sized dogs ($48; Djangobrand.com).
2. Protect your dog's paws if they need it
There are two issues with the ground in the winter, Verdino says. "One is obviously snow and ice—especially for younger dogs, whose paws are not as calloused. Their feet will get cold quickly and it will start to hurt their paws. You might notice your dog or your puppy holding his feet up. It's like you being barefoot in the snow. It wouldn't be pleasant for a prolonged time if they are young, and/or if they have sensitive paws."
The solution: booties. If you're thinking, "My dog's not going to wear booties," you'd be surprised. Sure, there's a learning curve—but boots are great for protecting your dog's paws against tough winter terrain. Even Iditarod sled dogs wear booties—and they're bred and trained to pull sleds through Alaskan winters.
"Put the booties on your dog in the house, let your dog walk around in them a little bit, and then take them off," says Verdino. Train them in short bursts. Let them get used to the process, and then it should be fairly easy. (You'll probably want to give yourself an extra five minutes or so to get them on before leaving the house.)
Consider RuffWear's Polar Trex Boots ($99.95; Ruffwear.com) for their winter-specific boot with Vibram IceTek outsole for gripping in snowy, icy conditions. We like that they have reflective trim for additional visibility. You measure all four of your dog's paws to ensure a great fit, but make sure you tighten them around your dog's paws or they'll fall off. Hesitant to spend nearly $100 on dog booties? We get you. You might want to start with the highly rated water-resistant booties from My Busy Dog ($35.99; Amazon.com). Alternatively, you could go the Iditarod route: wax. When I don't have as much time, I find that applying Musher's Secret wax seems to help protect my dog's paws a little from the cold and salt ($25; Walmart.com).
Read the full  article on Men's Journal.