6 Tips to Help You Practice Beach Yoga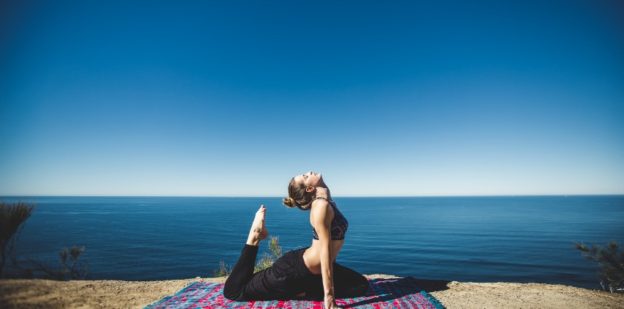 February 14, 2017 | Categories: Travel
If you regularly practice yoga at home and are inspired by the serene surroundings outside your beach vacation rental, doing yoga on the beach can be easy and a refreshing change of pace. Practice yoga comfortably on the beach with these tips from certified personal trainer Jessica Matthews, a yoga educator and exercise science professor at Miramar College in San Diego, California, who also teaches beach yoga classes.
Stay hydrated.
Hydration is critical during any form of physical activity you're doing outdoors, including yoga on the beach. Consume 17 – 20 ounces of water two to three hours prior to exercise, seven – 10 ounces of water every 10 to 20 minutes during exercise, and 16 – 24 ounces of water after exercise for every pound of body weight lost during the workout, according to recommendations from the National Athletic Trainers Association.
Practice sun safety.
Skin safety should be a key consideration before rolling out your yoga mat. Ensure that your skin stays protected by applying sunscreen 15 to 30 minutes before heading outdoors, even on days when it's a bit overcast. Look for sunscreen with at least SPF 15 that provides broad-spectrum coverage against all types of UV rays. Keep in mind the time of day that you practice, as the sun is the strongest between 10 a.m. and 4 p.m., so you may want to try an early morning or sunset session. Practicing in the shade of a tree might be a nice option as well.
Work up a sweat.
Don't be afraid to break a sweat seaside, as sweating is an important part of what will help keep you comfortable while practicing yoga outdoors. Sweating alone doesn't cool the body; it's the evaporation process that prevents the body from overheating. While practicing beach yoga, embrace the natural process of perspiring and resist the temptation to become distracted by constantly wiping sweat from your skin. That may reduce the amount of evaporative cooling that occurs, resulting in body heat retention, and in turn, an increased risk of dehydration and overheating.
Work with the sand.
Practicing on sand provides an additional physical challenge to overall balance as well as stabilizing feet and ankle muscles. Choose an area of the beach that is somewhat flat to ensure an even space. You can also manually smooth out the area where you choose to practice by simply using your hands. Given that a standard yoga mat ("sticky mat") will not adhere well to the sand, you may wish to use a beach towel or sheet instead. Both are lightweight and easy to clean. If you prefer to use a mat, you may wish to invest in a portable yoga board.
Why Meditation is Good for Your Mind and Your Gut
Bring a virtual guide.
If you aren't quite sure how to structure your practice on the beach, bring your mobile device and follow a yoga routine designed and led by a certified yoga teacher. There's no shortage of high-quality instructors and guidance available online. Consider YouTube videos, full-length podcasts or live-streamed/previously recorded full-length classes with world-renowned yoga instructors through websites like YogaGlo.com and SpiroFIT.com.
Wear the right clothing.
Stay comfortable by wearing clothing that offers coverage and an uninhibited range of motion. Consider yoga clothes made from newer synthetic materials, like polypropylene, which help wick away moisture. Breathable, lightweight synthetic and synthetic blends tend to be good choices because they allow for evaporation and keep skin dry, cool and comfortable.
Watch me practice beachfront yoga in Miami here!
This article originally appeared on the blog for Wyndham Vacation Rentals.