How Kiwi Can Help You Achieve Hydrated, Dewy Skin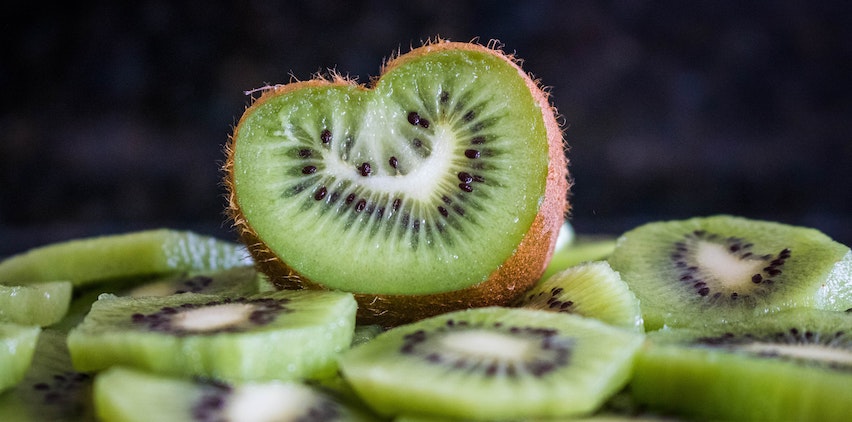 February 23, 2020 | Categories: Beauty & Skin Care
You've probably enjoyed kiwi in a delicious tropical smoothie or as part of a fresh fruit tart, but did you know that the kiwi fruit is also just plain good for your skin?
The fuzzy brown exterior might not look that exciting — but the bright green flesh and black seeds on the inside deliver some pretty amazing perks. In addition to helping you maintain hydrated, dewy skin all over your body, kiwi's active properties can reduce signs of aging!
It tastes great and helps keep skin healthy — what's not to love? Here are four kiwi skin benefits you can enjoy by incorporating this fruit into your diet and skincare routines.
How Kiwi Can Improve Your Skin
1. Locks in moisture
One of the biggest advantages kiwi offers is its uncanny ability to keep skin hydrated. This is due in large part to the fruit's high concentration of vitamin C, which enhances barrier lipids in the skin. Having a healthy barrier and skin microbiome can prevent water loss as well as invasions from microorganisms, according to a report published in the journal Nutrients.
When your skin is properly hydrated, it radiates with a dewy, youthful glow. To get in on this goodness and maintain healthy, radiant skin, try out a foot or hand mask that's infused with soy and kiwi complex.
2. Helps prevent early aging
If you wear sunscreen every day and apply body moisturizer at night to keep your skin looking healthy, youthful and wrinkle-free, you're on the right track — but there's more you could be doing to reduce signs of aging! Environmental factors like pollution, sunlight and smoking can cause oxidative stress, which accelerates skin damage. Fortunately, vitamins C and E are potent antioxidants that neutralize oxidative stress and protect against this kind of damage.
Using skincare products with vitamin C-rich ingredients — like kiwi — can improve your skin's resistance to UV exposure and actually help it produce collagen. So, while you wash away the day each night, you can protect your skin from the next one by using hydrating infusion drops made with kiwi extract. This will effectively draw out impurities and supply a few kiwi skin benefits at the same time!
3. Reduces appearance of wrinkles
Every time you eat vitamin C-rich foods like kiwi and strawberries, you're giving your skin the tools it needs to fight signs of aging. After all, having a diet that's high in vitamin C improves the skin's elasticity, antioxidant capacity and moisture, according to the aforementioned research published in Nutrients. In a 90-day study, 60 healthy participants with signs of skin aging took an oral supplement that was high in vitamin C — researchers concluded that participants showed improved skin health and fewer wrinkles.
To reap these benefits, try adding more kiwi to your diet. Consuming a serving or two is a surefire way to take advantage of its active properties! You can also get in on the goodness by topically applying a kiwi-infused moisturizer to the skin all over your body.
Read the full article on Aveeno.