The Business of LinkedIn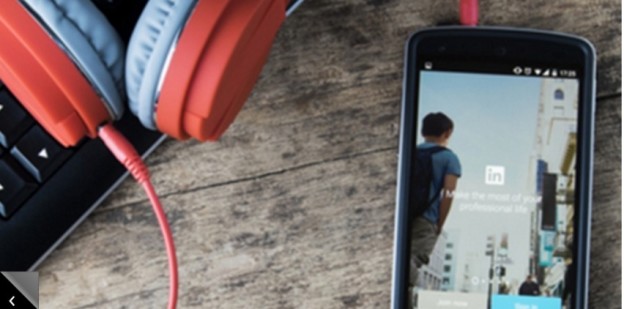 May 4, 2015 | Categories: Others
At any given time, about 25 percent of the workforce is looking for a job, says Joseph Roualdes, Senior Manager, Public Relations and Communications on LinkedIn, in an interview with Product Peel. Prior to LinkedIn, recruiters only had access to those active candidates and their networks.
"Ultimately, our goal is to give recruiters access to every single person, including that 75 percent that aren't looking for new jobs," – Joseph Roualdes, Senior Manager, Public Relations and Communications on LinkedIn
With over 350 million members, LinkedIn is the top social network when it comes to connecting with professionals, finding a new job, or fulfilling a job position.
"Recruiter is LinkedIn's flagship product; it's our number-one product we provide to recruiters and human resources professionals," says Roualdes. Talent Solutions is the business unit at LinkedIn that sells recruiting products and services to customers to over 30,000 companies to help them recruit on LinkedIn. "We have a diversified business model, and 60 percent of our revenue comes from LinkedIn's Talent Solutions," says Roualdes. "Because of that we don't have to focus on one specific way of generating money." Last year, LinkedIn started adding jobs from career sites and ATS systems, and now they have over 4 million jobs posted on LinkedIn. They eventually want to have every job posted on their site and want to be the world's first economic graph.
LinkedIn's Talent Solutions
Recruiters have needs to fill and LinkedIn's tool allows them to quickly search its database for someone with particular skills, in specific locations, their current and previous companies, education, and much more. Once a recruiter comes up with search results in the Recruiter tool, he or she can email those candidates profiles to the hiring manager, save their profile to a PDF, add them to a clipboard for a particular project, see profiles that are similar, and get "updates" when member makes public updates on LinkedIn.
Product Peel talked to Rod Blanchard, Head of Talent Acquisition at Jumbleberry, a marketing online sales company based in Toronto for his take on using LinkedIn for finding candidates. "Being a part of a recruiting agency for so many years, it's always the same conversation when recruiters meet a client," he says. "Recruiters used to go on about how big their database is and I think LinkedIn has squashed that conversation." It doesn't matter if an agency has 50,000 people in their database, "LinkedIn has become the database of all databases," he says. "Now you can see contacts that weren't in your database five years ago and have true databases that are always updated. In that respect, LinkedIn is definitely the way to go," he says.
There are three jobs you'll find posted on LinkedIn: free jobs (from career sites and ATS systems, members can only find them by searching), and paid jobs (companies paying LinkedIn to post the position – one is a job slot and one is a job posting). A job slot is a parking space. The recruiter or company can park a job in that slot, then move it out and put in another job, continuing to rotate jobs there throughout the year. A job posting is a 30-day parking spot for one job that goes away at the end of the 30 days.
Small business owners tell Roualdes they like the 30-day job-posting tool for helping them to increase awareness of their brand—it's a branding tool. "Now because we put the job out there in front of a ton of people, more people know about their company," he says.
"What's unique about these job postings is that they take advantage of our algorithms, and our algorithms find people that are good for that job based on the job descriptions and the words in people's profiles," says Roualdes. Both types of paid jobs are put in front of people who are a good fit for the position in the "Jobs you may be interested in" section that appears on a member's home page, a company page, or in your email if you subscribe to updates. "This is an opportunity for recruiters and companies to get their job postings in front of people who aren't actively looking for jobs, and that's unique to LinkedIn," says Roualdes.
Once you've signed up for the Recruiter Tool, you'll get set up with an onboarding team and go through a certification program to make sure you understand exactly how the product works and can get the most value from it, says Roualdes.
The Search Insights tool within Recruiter helps recruiters quickly and easily show their hiring managing how many people are available for the job based on the criteria the manager is looking for.  "Recruiters are taking this tool to their initial conversations with hiring managers, so it's giving them results based in real time and updating the talent pool based on the search parameters," says Roualdes.
"The tool shows my client if their 'ask' is a little bit too much and where they need to stretch the parameters a bit," says Blanchard.
What the Customers Have to Say
"Using LinkedIn's Recruiter tool helps me speed up the recruiting process," says Blanchard, who has 15 years of recruiting experience. "I'm able to start a dialog through LinkedIn and seeing a photo of candidates is helpful to me as well."
Blanchard says he's always found the tool quite useful whether it's getting referrals, or people introducing him through their connections within a credible portal. He says he uses LinkedIn 90 percent of the time when he has positions to fill; otherwise it's word of mouth.
Product Peel also chatted with Sherri Langburt, president of Blog Meets Brand, the first social management tool to feature a self-serve campaign planning module that gives marketers, PR firms, ad agencies and small businesses a clear and structured approach for creating and developing influencer marketing programs. She used LinkedIn's 30-day job posting service a few years ago when she was looking to fill a position at her company. Langburt said the tool was easy to use and she had a lot of candidates apply for the position from around the country. "Mobile teams are looking for people in different cities and it was great for that," she said. "I was able to find people in Chicago and Los Angeles even though I'm based in the New York City area." She remembered the job posting cost being affordable and said the experience, "Felt more credible because it's coming from this network solely focused on professionals." She says she also felt like the resumes were better than going through a generic job search website. Langburt hired someone through the 30-day job posting on LinkedIn and when that employee left to explore other opportunities, she was able to go back to a folder of people she saved from the last job search on LinkedIn.  One of Langburt's favorite ways of connecting through LinkedIn is to see who's looking at her profile. If it's someone she once talked to about working together, she'll reach out and see if they're still looking for new job. Or, if it's someone she used to work with a few years ago who's looking to see what she's up to, she message them to see if there's a way for them to work together again.
Is the Cost Worth It?
The Recruiter tool costs $9,000 for one to two people to use.  The price of a 30-day job posting depends on geographical location. In the "Greater New York City Area" for example, a 30-day job posting is $499.00, which includes free Profile Matches and 5 InMails. You can also purchase a 5-pack or 10-pack of job credits for a discounted price. Langburt said that she felt the 30-day job posting cost was affordable for a small business owner.
Blanchard says that he renews the Recruiting tool every year.  "When I first spoke with someone from LinkedIn about their services a few years ago, I felt like the salesperson was forcing my hand a bit into buying a package instead of a single slot." He acknowledges the cost is expensive for smaller companies who don't always need a five slot package, but overall, he says, "The price is good." He finds the customer service teams reliable and available and is always updated when Recruiter comes out with new functionality.
What Customers Want That Isn't Available Yet
Langburt says she thinks it would be helpful if LinkedIn provided a recruitment package where a business owner or recruiter posts a job and all of their contacts are notified via email and see it in their home page updates. Then, if one of her contacts provided a referral and could receive a commission or finder's fee for that recommendation, she thinks that would be a good service product.
"I'd rather post to my network to get a recommendation from a friend rather than sifting through thousands of resumes of people I don't know," says Langburt.
"It doesn't mean I don't think LinkedIn paid-for services aren't valuable, but my style of recruiting is that I'd rather take a referral from a friend." As a small business owner, she says that when she's in hiring mode she can only dedicate about 10 percent of her time to finding the right candidate for the position.
Roualdes suggests that small business owner like Langburt who prefers to recruit through referrals look at her network and reach out to the people that she thinks know the people who might be a good fit for the position.
"One functionality I wish LinkedIn had is being able to click on a link and go right to a Skpe call or a Google hangout directly from LinkedIn," says Blanchard. He often has email conversations back and forth but says it would be great if you could quickly click a button and both parties agree to do a call right there. "On the functionality side that would be useful to speed things up," he says.
Read the full article on ProductPeel.com.