Valentine's Gifts Your Girlfriend Actually Wants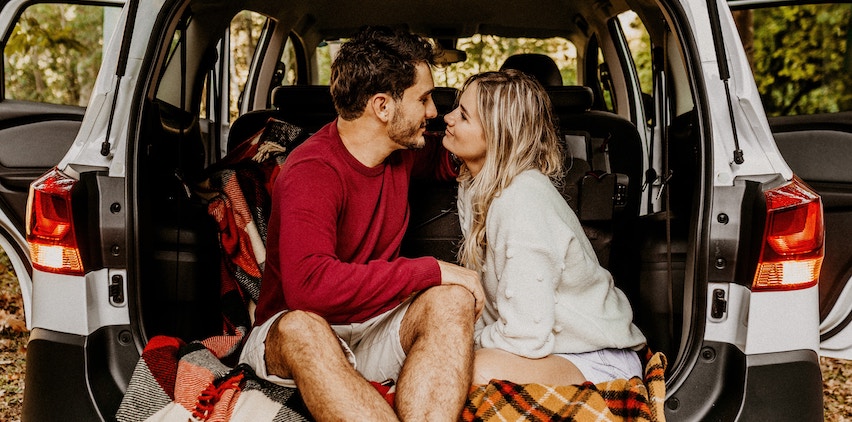 December 30, 2019 | Categories: Others, Relationships
If your leading lady has been to more exotic destinations than you can count, skip the absurd and/or stereotypical presents and give her a Valentine's Day gift that's practical, but will still earn you her affection.
We've corralled the best thoughtful gifts that run the gamut from gorgeously stylish to ingeniously useful. Here are our Valentine's Day gift ideas for the lady traveler in your life. (Fitness vacations make for a great present, too.)
The Best Valentine's Day Gifts for Women Who Love to Travel
1. iPhone X Symmetry Series Clear Graphics Case in Clearly Dazzling by Otterbox
Even the most careful traveler can drop her phone, sending it tumbling down a dozen ancient stone steps or into a historic fountain. If your girlfriend or wife likes to travel, gift her a protective case. We're digging this eye-catching option from OtterBox. It's clear, so the case doesn't mask the color of her iPhone; and the patterns are a helluva lot prettier than the typical clunky black shatterproof cases we're used to seeing. ($40.95, otterbox.com)
2. Slip-On Sneakers by Vionic
Make her treks through TSA a breeze with these slip-on sneakers from Vionic. The perforated leather kicks (available in four colors) are designed with Vionic's Orthoheel Technology. They'll hug her arches and conform to the unique shape of her feet, so miles of exploration (and airport security) won't feel so tiresome. ($129.95, vionicshoes.com)
3. On the Fly Pant by Lululemon
The four-way stretch of the Lululemon On the Fly Pant means she'll stay comfortable whether she's crossing the country (or globe) via car, bus, train, or plane. The drawstring waist and sweat-wicking fabric feel cool and smooth to the touch. Best of all, they can be dressed up or down, so she can pack less in her carry-on. ($98, lululemon.com)
4. Silk Sleepmask by Slip
Gift her this Slip Silk Sleepmask, and she'll thank (and think of) you the next time she's trying to snooze on a red eye. It's crafted from a high-end mulberry silk that lends a luxurious softness to the plush mask. It'll block out light and deliver the darkness she craves. ($50, sephora.com)
5. Packable Daypack by Eagle Creek
Whether she's a day hiker or just appreciates the convenience of a lightweight pack she can stuff to the gills while traveling, this pack from Eagle Creek feels light as a feather. It won't weigh her down before she even adds her traveling essentials. We like that it packs down into its front pocket, and that it barely takes up space when it's not being used. For a daypack that's got a lifestyle look, check out Dakine's options. ($31.95, eaglecreek.com; $100, dakine.com)
6. Ultra Facial Overnight Hydrating Mask by Kiehl's
She already knows travel does a number on her skin. Hydration is so important while traveling—most women struggle with excessive dryness or oiliness in transit—and moisturizing is crucial for keeping skin looking beautiful. She can apply this mask for 10 minutes, then wipe off the excess and leave the remainder of the product on overnight for skin that looks radiant and healthy by morning. ($35, kiehls.com)
Read the full article on Men's Journal.