7 Ways to Avoid Holiday Weight Gain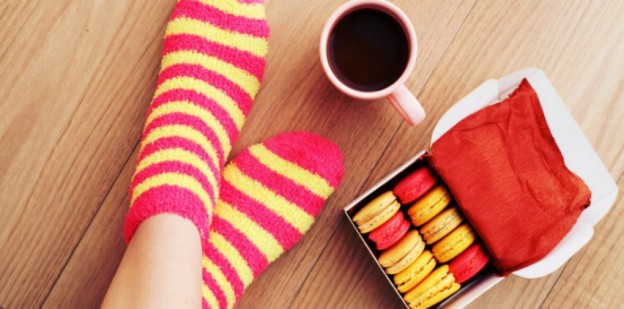 November 12, 2018 | Categories: Weight Loss & Nutrition
If you plan to wear bulky sweaters and layers all season so you can hide those winter pounds underneath, it's time to change your mindset—and your seasonal wardrobe. While most Americans only gain about one to two pounds during the holiday season, the problem is that we often never lose that additional pound. So in 10 years, you've got an extra 10 pounds on your frame. All that eating and drinking we do at parties throughout the month, paired with less exercise because it's cold, means you're taking in more calories than you're burning off, which can quickly add up a few notches up on the scale.
"Staying on track with healthy eating and exercise throughout the winter season will help you maintain or even lose weight," says Lisa Stollman, RD, author of The Trim Traveler: How to Eat Healthy and Stay Fit While Traveling Abroad (June 2014). "With a little planning and the motivation to stay healthy and fit, you can avoid gaining weight and maintain or achieve your weight goal." Here are weight management strategies from Stollman and nutrition expert Lori Zanini, RD, National Media Spokesperson, Academy of Nutrition & Dietetics, to help you maintain (or even lose weight) during the harshest months of the year when faced with common challenges.
Learn seven ways to avoid gaining weight this winter.
1. Pay Attention while Eating
"Since holidays are usually a time of celebrations and spending time with people you don't see very often, it's important to enjoy the moments instead of continuously worrying about calories," says Zanini. Stay aware of when you're eating and why by paying attention to hunger cues. Eat only when you're truly hungry, go slowly, enjoy each bite, and stop when you're satisfied, she suggests. Always eat sitting down at a table instead of noshing in a car or in front of a screen.
2. Keep Your Kitchen Stocked with Healthy Options
Having nutritious options on hand will allow you to quickly prepare a meal instead of relying on takeout when the season gets hectic and your to-do list becomes overwhelming. Stock your fridge and pantry with fresh or frozen fruits and vegetables, canned vegetable-based soups, whole grain cereals, pasta and bread, low-fat dairy, olive oil, avocados, beans, hummus, chicken, fish, tofu and nut butters. Roast a bunch of vegetables on the weekend so you can add them to sandwiches, salads and dinners during the week. These fall foods can help you lose weight.
3. Stick to Your Regular Eating Schedule
Too often, people skip meals to save calories for a holiday meal or party. This usually backfires because you arrive hungry and end up eating more, says Zanini. "I recommend eating breakfast within one hour of waking and then eat at least every four to five hours throughout the day," she says.
4. Have a Pre-party Snack
Before you leave home, have something to eat that has fiber and protein, suggests Stollman. She recommends a snack like hummus and tomato on whole grain toast, a can of vegetable soup, or plain yogurt with fresh fruit. When you get to the party you'll be satisfied and less likely to indulge in the high-fat appetizers and cheeses being served. At the event, fill up on veggies and go easy on the starchy dishes. Make these smart choices at holiday parties.
5. Be Mindful of Alcohol Intake
"I often tell my clients, 'The more you drink the less you care,' and this especially applies when trying to eat healthy at holiday parties," says Zanini. When you overindulge in alcohol, you're taking in more
calories from both the alcohol and the poor food decisions you're likely making once intoxicated. Drink a glass of water or seltzer in between alcoholic beverages. This will keep you hydrated and help avoid a hangover. If you do have a drink or two, stick to a low-calorie beverage, such as a glass of wine, wine spritzer or vodka with seltzer
on ice, says Stollman.
How to Handle Yourself in 8 Awkward Holiday Situations
6. Fill Up on Low-Cal Fare First
When it comes to winter dishes, comfort food often means hot food. Make a pot of broth-based soup with non-starchy veggies for low-calorie comfort, suggests Stollman. Filling up on fiber-rich salads and hydrating from water/soup can help cut down on portions before you dine on a heavy meal, says Zanini.
7. Enlist Tech Help to Stay Motivated
Any app that offers online meal tracking can be useful during the holidays to help keep you accountable and aware of exactly what you're consuming. Tracking your workouts and sharing them on social media can be a helpful motivator as well. Our experts recommend MyFitnessPal, Food and Nutrition Magazine, eaTipster, MyDietCoach, and EveryMove.
5 Tips to Help You Beat Holiday Stress
This article was originally written for FitnessRepublic.com.