Canva for Freelance Writers: How to Use the Design Tool to Help Your Business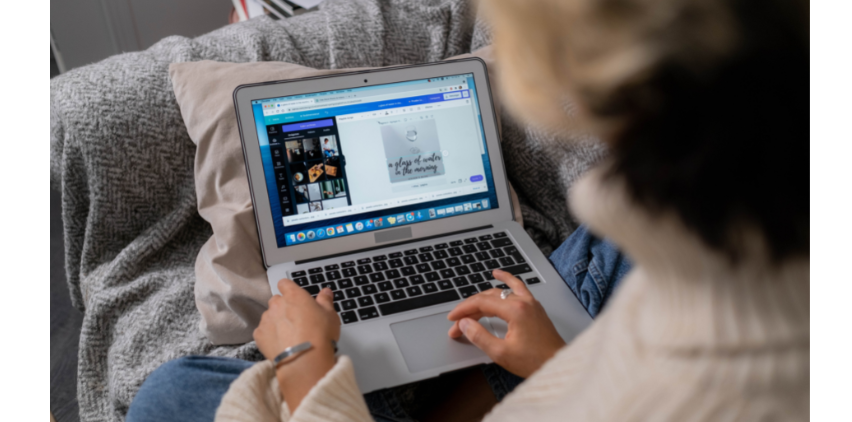 February 1, 2023
For many freelance writers, we're hesitant to step outside of our skill set when it comes to things like designing images, graphics, coming up with infographics and creating designed social posts. But making use of Canva for freelance writers is easier than you probably anticipated—even if you think you "can't design to save your life."
If you're like me, you didn't feel confident in your social media design skills and used Fiverr or Upwork to hire designers help you with images and social posts. I used Canva freelance graphic designers to help me design Pinterest posts and social graphics in recent years.
But you don't need a ton of money to get great social media posts for your freelance brand.
It's easy to make great-looking social media posts and designed images for your freelance brand on the free design site, Canva. You can even design websites as well!
What is Canva for Freelancer Writers?
Canva is an online design platform that allows users to create different graphics and materials, from social media posts to infographics, to Facebook Posts, business cards, digital products to sell, and so much more. (BTW, what is freelance?)
One of the best things about Canva is that it has so many design templates to choose from. Simply type "writer" into their search bar and you'll find nearly 2,400 templates to choose from—yes, some are in their paid subscription plan—marked with a crown logo. Put "content" in the search bar and you'll come up with over 30,000 results. The word "freelancer" results in over 4,700 templates to choose from.
I like to see what comes up and allow myself to be inspired by the designs when I want to create fresh social media posts, Pinterest Pins, eBook designs, digital download templates and freelancer resume inspiration.
How to Sign up for Canva
It's free and easy to sign up for a Canva account. You'll want to create an account so you can save your designs, organize them, and create new ones. If you're getting help with your social media posting from another employee, you might want to sign up using an email account and password that allows you both to have access.
By creating an account, you'll be able to log in via a web browser or mobile app to view, edit, and organize your previous designs or create new ones.
While Canva offers a robust free plan (thanks, Canva!), you might want to consider a paid Canva plan (Canva pro) for access to stock photos and thousands of additional templates. As of this publishing, It's $12.99/month for up to five users or you can get the annual pro plan for $119/month for one user. You can even try Canva Pro for 30 days free to see if you like it. Discover more of the perfect apps for writers and freelancers to try.
Ways Freelance Writers Can Use Canva to Grow Their Businesses
Social media posts, including statis images, movies, carousels, Pinterest pins and more
Banners on social media platforms like Facebook, Twitter, LinkedIn
Logos and brand kits (which include colors, font, etc.)
Creating designs for newsletters
Use Canva Docs to add visual elements to articles
Build a portfolio that you can share with prospective clients. (Here's why you need a freelance writer portfolio.)
Design your own business cards
Create templates you can sell on Etsy (Check out my Etsy store here.)
Create digital downloads and PDFs you can sell on your website, Gumroad, Etsy, Teachable or somewhere else
Training documents when you onboard a virtual assistant
Design a resume using templates or start one from scratch
Create your own social media marketing influencer kit
Make presentations for webinars or courses
How to Create a Design Using Canva
Here's a breakdown of the Canva tools you will use to edit and customize your design. Overall, their drag-and-drop features make it easy to create beautiful designs if you don't have professional design experience.
Upload: If you have professionally photographed photos you want to include, start with those. Canva Pro has thousands of stock images you can use when you create designs
Edit Image: Using the built-in image editor, you can blur an image, adjust brightness, add a filter, and more.
Color: Choose a color for an element or your background.
Crop: Use this tool to crop an image or portion of the photo for added interest.
Position: Choose whether an element is behind or in front of other items in your design.
Animate: Add movement to your entire design or just specific items. This adds interest to your feed!
Transparency: Adjust the transparency of specific components or images.
Copy: Easily copy any selected element
Group: By highlighting multiple items at once, you can group them, making it possible to move or resize them together.
Add a title: Change the name on the top right side, then select "Share," choose the file type (PNG, JPEG, GIF, etc.), and click "Download."
Now you're ready to share your freelance design on social media. You can resize one design you've created and play around with it so it works on other social media platforms.
I even use Canva for simple things like resizing a stock image to my blog size. I did it for this blog!
How do you think using Canva for freelancers will help your business grow or look more professional and polished?
Tags: design, freelance, freelance writer, freelance writing, freelance writing tips, freelancer