Types of Freelance Writing Freelancers Should Know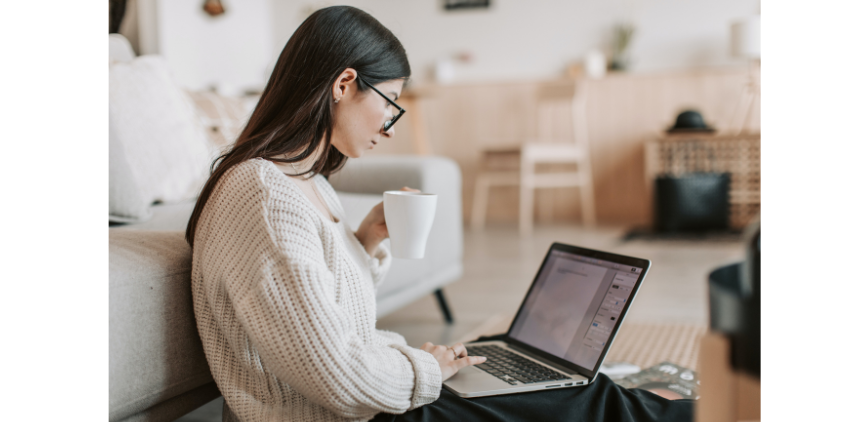 January 24, 2023
If you're considering how to become a content writer or how to get started freelance writing, you'll want to know more about the different types of freelance writing you can do. Having an understanding of the types of freelance writer you can become as well as how much freelancers get paid for different types of freelance writing can help you make a decision about which direction you want to head as you build your freelance skills and concentrate your efforts as a freelancer.
Types of Freelance Writer Work
Learn more about the different types of freelancing writing and the types of freelance writer you might want to be! Get definitions of types of freelance writing here as well as how much these freelance writing niches pay so you can work with better-paying freelance clients. I'll even share some freelance writing examples so you can see what I've done for clients.
Article Writing
Article writing is a popular type of freelance writing and often one of the ways I suggest beginner freelance writers try to break into the freelancing world. Article writing for editorial clients might include service journalism (think "how to" pieces), reported freelance stories, SEO article writing where you're using targeted keywords to drive traffic results from a search query to an informative article. Freelance article writing can be done for print magazines, websites for those magazines, print newsletters, newspapers, as well as trade publications. Freelance writing rates for article writing vary across the board…from pennies per word to $2/word and up, depending on the clients. It can be challenging to find magazines that pay for articles but this blog post can shed some light into how much do freelancers get paid.
Freelance writing examples:
12 Quick Breakfasts Ready in 7 Minutes or Less (for Readers' Digest)
Blog Writing
Freelance blog writing is a type of freelance writer that often falls under the umbrella of content marketing when you're writing articles or blogs for a business. If you're wondering how to become a content writer, you'll probably find yourself doing some freelance writing for blogs. Sometimes editorial outlets hire writers to blog for them and cover newsy topics, recent research, or even do an interview for their blog. What I've found is that you need to have the client define the type of content they are looking for when you plan on doing freelance writing for blogs. Ask the client to show you examples of what they want and samples that they like from other websites as well before you start freelance writing for blogs. A blog writer usually creates informative articles that help brands educate and covert clients or customers. Some blogs are also content marketing writing. You might find that you can earn over $100 an hour or more freelance writing with blogging if you specialize in a niche or two. This way, clients will think of you as a go-to blog writer for certain topics. I've been specializing in the freelance niche of weight loss for almost 15 years and it's a topic clients seek me out for to do article writing and blog writing. Want to start specializing in a high-paying niche? Look at these best high-paying freelance niches of 2022.
Freelance writing examples:
Meet a Marathon Runner Who Overcame Heart Defeats (Reebok)
Why You Struggle to Get Out of Bed on Winter Mornings (Fitbit)
e-Commerce Writing
You may have noticed that your favorite editorial brands are featuring a lot more "roundups" of products these days. While they want to help their readers discover the best products in certain categories, they are also using these articles to drive revenue from affiliate links. That means that many of the products mentioned in the article are linking to Amazon or using an affiliate link from the brand to go to the company's website. If the reader clicks on that link and purchases a product after being on that article, the editorial brand or website you originally visited will likely earn a commission from the sale. This is one way media brands and magazines are able to sustain themselves in a climate where fewer people are buying print magazines and subscribing to print magazines. Learn how to build a freelance writer portfolio.
Freelance writing example: Here's a published e-commerce article I wrote for Health magazine featuring the Best Workout Leggings of 2023.
Copywriting 
A freelance copywriter is one of the types of freelance writing that typically writes enticing copy for commercial purposes. Some examples of freelance copywriting you'll see are text on a website's product detail page before you check out and buy something. It's also the writing you'll see on product packaging and a brand's website copy. A copywriter might also write ads, in-store copy for a brick and mortar business, newsletters, website copy, and even social copy as part of promo writing. The goal of their writing is to motivate you to buy a product or service. A freelance copywriter needs to craft eye-popping headlines, be able to write concise copy, and create compelling calls-to-action. You might work closely with a graphic designer to create ads and eye-catching copy. A freelance copywriter is a lucrative type of freelance writing. Freelance copywriter rates vary depending on the type of copywriting you're doing and the client but in my experience, these freelance hourly rates should be at least $75 an hour if you have experience. Honing your writing skills as well as SEO, research, and understanding data and analytics will help you be an even more marketable freelance copywriter who earns great rates. Discover 3 Perfect Freelance Article Pitches that got assigned.
Freelance writing examples:
In early 2022, I worked on banner copy, product copy, landing page copy, and store ads for GNC Routines.
Video Script Writing
Video script writing is a type of freelance writing becoming even more popular these days. Every brand is clamoring (or should be) to tell their stories visually via videos and a video script writer can earn a lot of money if they work with high-paying clients. Video script writers could try to sell their original work to television studios, production companies, or media production companies through an agent.
But, the amateur video script writer should think about breaking into this type of freelance writing by working on scripts for corporate videos, TikTok, YouTube, and Instagram in order to help the brand build their audience through viewership. Learn more about social media marketing freelance roles.
Freelance writing examples:
I wrote a video script before recording my introductory sales video for my Get Paid to Write course.
Technical writing
Technical writing is a type of freelance writing that's very specialized. A technical writer needs to take something complex and make it digestible and easy to understand. A freelance technical writer might create a user manual for a smartphone or electronic device. They write user manuals, product instructions, as well as case studies and white papers in certain freelance niches. Being a niche technical freelance writer will give you a leg up on the competition if you're the go-to freelancer brands come to when they need certain topics explained. Remember, when it comes to freelancing, being specialized and having certain skills can often result in a higher freelance rate, particularly if you're working in the tech, science, finance, and health sectors.
Freelance writing examples:
I don't have any examples of this freelance writing that I have done but an example would be an instruction booklet for your new smartphone.
White paper writing
This type of freelance writing is one of the highest-paying freelance writing gigs. Many companies pay at least $1 per word for white paper content or at least a few thousand dollars for white papers. White papers are often used in the B2B space and are ways a brand sets themselves apart from competitors as a thought leader or expert in their space or niche, particularly about a certain topic. White paper writing might involve client-provided research, it might require interviews, feature some case studies, or a mix of those components. This document involves deep research into a particular topic to educate people outside the industry on how a brand does something and why they are respected in their industry. It might be helpful to take a course on how to write white papers or do some online research for freelance writing examples on a site like That White Paper Guy before offering white paper writing freelance services to an existing client. Knowing how to write white papers is a great freelance skill to have and it will help diversity your income and clients.
Freelance writing examples:
How Diabetes Impact the Workplace (For Fitbit)
Content Marketing Writing / Branded Content Writing
Content marketing writing is a type of writing that might be referred to as a brand content writer or branded content writer or brand content journalist. Content writers amplify a brand's voice and educate their audiences through blogs and articles. Content marketing writing is a category that I've found much success in over the years–it's often at least 50 percent of my freelance salary–and it's a sector of freelancing that many magazine editors, newspaper writers, and journalists are finding satisfactory, well-paid work in.
Brands want content marketing writers to tell stories and to integrate their brand into the details. You might find success–and more money–by writing sponsored articles for editorial brands, particularly if you're struggling to break into freelance writing with your article pitches. Oftentimes, branded content is referred to as B2C writing, business to consumer, meaning you, the consumer and lay audience is targeted as the end user. (Think: Reading an article about skin health on beauty brand Aveeno's blog.) Content marketing freelance writing can also used in B2B (business to business) situations, where you're writing for a brand that sells things to other businesses. An example of B2B branded content writing might be a software company writing an article about cybersecurity systems other businesses need to put in place. Content marketing rates are all over the place and freelancers could get low-balled in terms of quotes but in general, this is an area where freelancers should be able to earn at least $0.50/word. Get a freelance monthly marketing plan to help you reach your freelance salary goals. And check out these best blogs for freelancers to learn additional skills.
Freelance writing examples:
Here's How to Keep Your Dog's Dental Health in Top Shape (for Embark)
How Spring Allergies Can Impact Sleep Apnea (for Philips)
SEO Writing
What is freelance SEO writing? SEO Writing is something every brand with a digital presence should be focusing on in order to attract new audiences to their websites. Search Engine Optimization writing means you want users to click on a link to your website after they see it on a search engine's results page. Ideally, the SEO article or blog or web page should answer the question the user sought so the experience they have when they find themselves on this page is a positive one. I tell freelance coaching clients that they should say they are SEO writers, especially if a client asks if they have SEO writing skills. It's easy to learn some basic SEO practices and I've found that most of my clients have the key words they want incorporated–sometimes even a detailed outline–and you just have to write engaging, informative copy around it. That being said, SEO writing isn't always easy–answering some questions in copy can seem clunky and awkward if it isn't done correctly. This type of freelance writing is likely to command a higher freelance rate if you're writing SEO articles for a brand, but there are plenty of people who just want writers to churn out tones of SEO key work articles for low pay to increase the volume of content on this topic on their website. Again, having some specialization in this field or working withing less competitive freelance niches will likely result in better-paying freelance clients.
Freelance writing examples:
How to Save Money on a Road Trip (for SoFi)
How to Remove Dead Skin from Your Face (for HowStuffWorks)
Ghostwriting
Ghostwriting is one of the types of freelance writing that pays very well–but it comes with little to no glory. Like some branded content article writing, you won't get a byline. Freelance ghostwriting work could be writing a book for a celebrity or politician, writing eBooks, penning blogs for an executive at a company, writing OpEds for professionals, as well as writing thought leadership articles on a social platform like LinkedIn. Learn LinkedIn tips for freelancers here.You'll learn a lot about different topics as well as how to capture an individual's tone and voice as a freelance ghostwriter. Work with an attorney or a similar professional when you're signing contracts to see if you can mention the ghostwriting work you did for each client, include it behind a wall on your website, or show examples to other potential clients. While you might get some work via word-of-mouth and referrals, ghostwriting can be challenging in that it's hard to find new clients and show your samples if you signed Non Discloser Agreements and have to be hush-hush about all of your work. Ghostwriting is another type of freelance writing that I suggest students offer to existing clients as an upsell. Ask if they need help creating an eBook, writing an article on LinkedIn from the CEO of the company, or if they want other employees to have a presence on their company blog but they don't have time to do it!
Freelance writing examples:
I have ghostwritten four books for the FDNY Foundation.
Newsletter Writing
Newsletter writing is a type of freelance writing that has been around for decades and seems to be more important than ever before in terms of building relationships between the business and their customer or client. When I was a staff editor at magazines, every digital editor knew they would be writing newsletters at some point in their career. In that editorial field, the newsletters usually promoted the latest articles published on the website, let readers know where to find the publication on social media, and gave them a heads up about any timely events. Sometimes the newsletters had sponsorships. Now, every business has a newsletter, as well as freelancers (here's a link to my freelance writing tips newsletter), authors, brands, celebrities, and everyone in between. Many freelancers are finding success by launching their own newsletters on a subscription-based platform like Substack where readers can pay a monthly fee or annual fee to get proprietary content also called "pay to view" content that isn't available for free on their blog, website, or social media channels. Offering newsletter writing as a freelance skill to your clients is a great way to make more money freelancing. Some clients pay freelance writers working on newsletters per word, others pay per newsletter, and some offer project fees. It's important to think about what the client will get out of this newsletter from their customer when you're quoting fees for this type of freelance writing. Copywriting skills, understanding newsletter marketing terms, A/B testing, open rates, click-through rates, and analytics will give you a leg up on the freelance competition and help you earn a higher freelance rate. You might find that clients want you to write articles for a printed newsletter, a company e-newsletter from the CEO to staff, or contribute content to other industry newsletters.
Freelance writing examples:
Check out my freelance writing newsletter.
Once you're ready to start earning $100 an hour or more freelance writing, check out my freelance writing online course that walks you through the steps on how to do just that and make money in a lucrative type of freelance writing field.
Tags: freelance rates, freelance tips, freelance writing, freelance writing tips, freelancer, freelancers, six figure income, writing tips